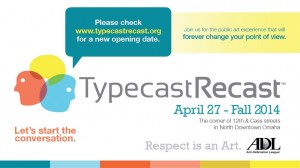 TypecastRecast is now open! Visit with friends, family and community groups. For docent-lead tours, please contact Susan Wallis, Education Coordinator of the ADL Plains States Region, at swallis@adl.org.
TypecastRecast is a community project of the Anti-Defamation League (ADL) – Plains States Region. It includes public art, corresponding educational curriculum and online resources that provide tools to start conversations and build greater respect within Omaha and beyond. We hope TypecastRecast inspires you to challenge perceptions, break down stereotypes, find the commonality and start the conversation!
TypecastRecast features six works by regional artists including:
For more information, please visit www.typecastrecast.org.